Today on Material, the lovely Morgan Jones Johnston is taking over our Instagram. Morgan is the founder of Rugged and Fancy, and she's here to tell y'all why she quit the 9-5 hustle to start her own business.
When it comes to career paths, people can get caught up in the idea of a linear trajectory. For some reason, most of society seems to have the belief you need to know where you're going the instant you set out on your own. (College majors, anyone?) That may be the case for some, but for many of us there are few detours on the way to figuring out the best course of action for our lives.
I went to school to be a writer/editor, but in my first "career" job I wound up being a photographer's assistant. Eventually I was doing styling for large advertising campaigns, and the money was great. The hustle was insane, however, and after having my first child and a life-threatening illness, I paused to reassess my life. Making art had always been my gift, my passion and the way I connected most with people and myself. So I started painting again.
Soon people started buying my work. And those people started telling their friends. Customers began asking me for commissioned pieces, and when I committed to making my own a business with a strategy, my career really started taking off.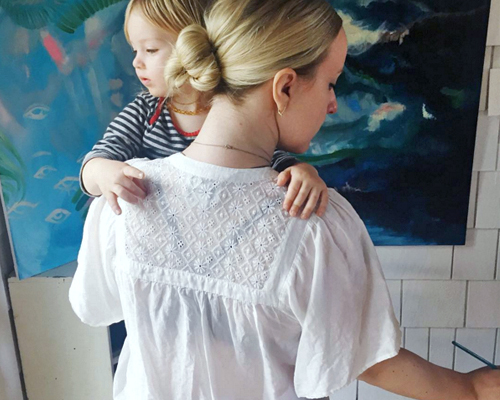 There's not a day that goes by where I don't express insane gratitude that I get to create for a living. I'm so lucky that art is what I call my everyday gig, alongside the occasional freelance styling and art directing project.
Here's the thing: there's no better time to do what you want in life than in this moment RIGHT NOW. Being your own boss and doing your own thing is haaaaaaard work. But if it's the thing you love with every fiber of your being, if you have the work ethic to follow through and just keep hustling, you're going to make something of yourself. You have to start somewhere, so why not make each moment a moment that really matters? The key to sucessful business is mindfulness. Be present. Be here now. And do the work.
Balance is really important to me, so I always check in with my priorities in life and I always check in on my goals. Making a practice of this really helps keep me on my path with attentiveness and honesty. Temper this with a little flexibility, so you can move fluidly with the bends and twists that inevitably come with the gig. And don't forget to breathe.
Nothing matters more to me than my family, love and adventure. Those are my priorities. And I have a whole list of goals, both personal and professional, that I reassess with my family quarterly. While there is always the inevitable craziness that owning my own business entails, it's the challenge, adventure and opportunity to spread a little love in this world that keep me going, keep me excited and drive me to do my best work possible.
Know your priorities. Know your life goals. Do the work and be flexible. And remember that at the end of the day, you've got this one life and this one moment. So make it count.